Share this article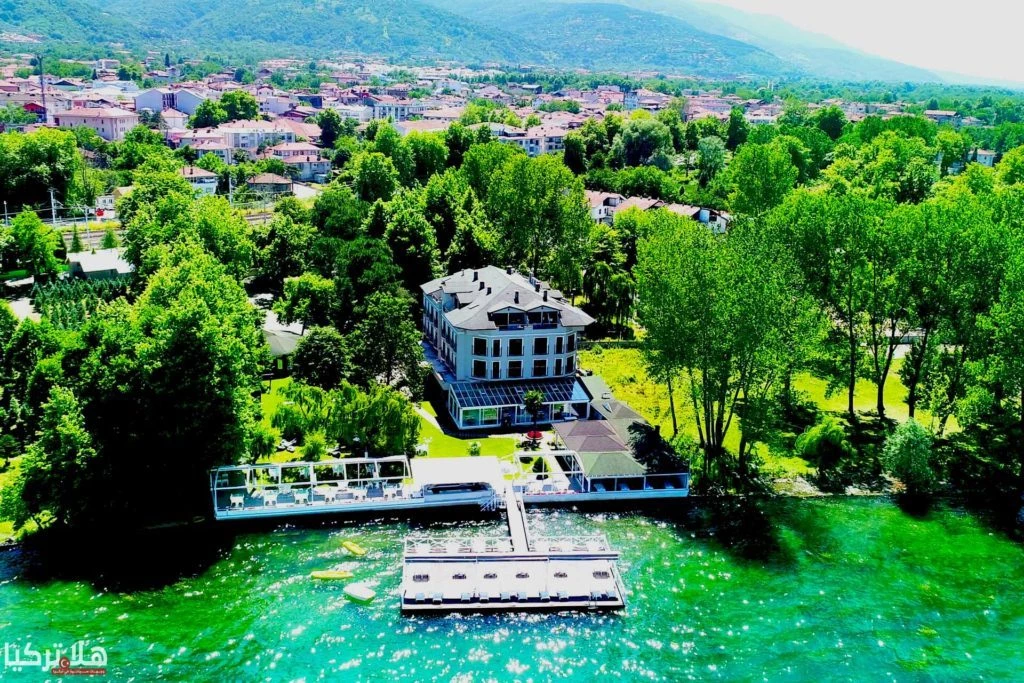 Sapanca .. A captivating visit to a unique destination!
The legends and stories about Lake Sapanca in Turkey have multiplied, giving it a unique charm and attraction that attracts many tourists to enjoy and discover its secrets.
It is said that in ancient times, it was a city inhabited by very wealthy but stingy people. Then, this city and everything in it sank and was submerged by water, which explains the appearance of a prominent minaret from the water's surface to this day!
Sapanca is one of the largest lakes in Turkey, covering an area of 45 square kilometers with a depth of 52 meters. It is in the province of Sakarya, specifically on a tectonic hole, which is a gap in the Earth's plates that occurred due to the unstable meeting of two plates. This formed a cavity that filled with water, creating the enchanting Lake Sapanca.
Having Lake Sapanca in this area with its unique sinkhole has made it more attractive to tourists, who can engage in activities such as diving, exploring caves, underwater rock formations, and landscapes.
Lake Sapanca is a freshwater lake, and the surrounding residents rely on its water for domestic and industrial needs.
Just 20 kilometers away from Sapanca, there are 25 waterfalls, both large and small, known as "Maşukiye Waterfalls," combining a unique rural charm with the sound of flowing water, making it an appealing destination for tourists seeking a unique experience and immersion in nature.
Near the lake, there are several restaurants, with one of them being located inside a more than 150-year-old cottage.
Spring is considered one of the most beautiful times to visit Lake Sapanca, as flowers bloom on the water's surface in a captivating and exceptional manner. In addition to the mesmerizing floral display, the wildlife in the lake is also remarkable, with a variety of unique birds, animals, and plants that you can observe and enjoy in the tranquil atmosphere away from the hustle and bustle of the city.
During winter, you can visit the snow-covered "Kartepe" mountain by taking the cable car that stretches from the mountain's summit to its base. You can also hike up the mountain to experience the charm of nature and visit the ski resort to engage in snow activities.
Lake Sapanca boasts crystal-clear blue waters, and it is surrounded by several seating areas, promenades, hotels, restaurants, and cafes that cater to the needs of tourists seeking relaxation and contemplation.
Here are some activities you can engage in during your visit to Sapanca, along with the notable places:
Fishing: You can fish in Lake Sapanca, which is rich in fish and allows visitors to indulge in fishing.
Snowboarding: In winter, the mountains are covered in snow, providing an opportunity for snowboarding and transportation via cable car.
Visit the zoo, which houses over 200 animal species, as well as rare plants and flowers.
Enjoy rowing in the lake, which is available for tourists at reasonable prices.
Explore the stunning village of Naturköy, known for its natural landscapes and rivers.
Visit the glass terrace in the Kartepe area, overlooking the lake and considered one of the best tourist spots in Sapanca.
Embark on a safari trip in the highlands of Mount Kartepe, where you can capture memorable photos amidst nature's embrace.
Explore London Park, featuring free playgrounds for children and green spaces for walking.
Visit the Upside-Down House in Maşukiye, where you can enter and capture professional photos at a reasonable price.
Explore the horse farm and enjoy horseback riding, with a restaurant that serves delicious food cooked by the owners. You can also have a unique and special experience by sitting on the floor.
You can reach Sapanca from Istanbul by taking a direct train from "Haydarpaşa" station in the Asian side. Alternatively, you can go by bus from the Otogar bus station.
The best places to visit during a trip to Sapanca and the recreational activities that can be done.